Who We Are
---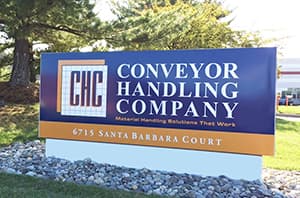 Conveyor Handling Company (CHC) has been a leader in providing quality, cost-effective material handling solutions since 1975. Located in Elkridge on the southwest side of Baltimore, Maryland, with offices in Delaware, Maryland, New Jersey, North Carolina, and Pennsylvania, the company has successfully partnered with customers offering them custom solutions for their unique material handling challenges. CHC has developed and maintained relationships with private and public companies nationwide, as well as US and State government agencies. Furthermore, we have been recognized repeatedly by major manufacturers and integrators as a top performing solutions provider.
When you choose CHC as your Material Handling Systems Integrator, you partner with our highly skilled in-house team of professionals through every phase of your project. From design to after commissioning service, our in-house team of sales, engineers, project managers, installation crews and service technicians determine the solution that best fits your needs. Customer satisfaction will always remain our top priority. From purchasing equipment to a full turnkey solution, Conveyor Handling Company will provide a worry-free process; increasing productivity and profit by improving material handling efficiency.
Every project is managed by our in-house team with:
innovation and creativity
extensive industry knowledge
value and integrity
customer satisfaction a priority
Meet our Team
Jean Rittermann

President

As President and Owner since 1985, Jean provides visionary and strategic leadership within the company. She oversees the company's operations to insure efficiency, quality, service and cost effective management of resources. Jean sets the overall direction of the company to help promote revenue, profitability, and growth; and is focused on planning, developing, and implementing strategies to attain company objectives.

Rich Rittermann

Vice President of Operations

Richard, Owner and Vice President of Operations, joined Conveyor Handling Company in 1976 with a strong mechanical and electrical background. During his 40+ years at Conveyor Handling Company, he has remained an integral member and has been instrumental in the continued development and growth of the company through sales and management of the 50+ employees.

Doug Rittermann

Vice President / Director of Sales

As Vice President, Doug provides oversight and guidance for the management of our Sales and Operations Departments. He began his sales career in 1999, and is the third generation to be a part of CHC. His experience with the company began at a very early age. Over the years he has seen the many different challenges our customers face in their operations. Doug's many years of involvement has helped him to understand how we can best serve our customers' needs. He is committed to making sure Conveyor Handling Company is always doing whatever it takes to help our customers at the highest possible level.

Seth Moore

Associate Director of Sales

Seth has worked in the material handling industry since 2015 with an extensive management background in the automotive industry. The foundation of his experience is built around a strong relationship with customers and a focus on understanding the needs of their business. Seth is dedicated to strengthening the relationships CHC has with its partners and customers, and simultaneously providing them with the most effective and efficient solutions to help them expand and sustain healthy growth. Seth's CHC objectives are achieved through collaborative innovation with our customers and the integrity of our Sales Team.

Jeff Grim

Director of Operations

As Director of Operations, Jeff oversees the Engineering, Controls, Project Management, Quoting, and Installation Departments. Jeff manages every step of a project from concept to completion, making sure each part is completed thoroughly and efficiently. With over 25 years of experience with CHC, Jeff has a thorough knowledge of the mechanical, electrical, and controls portions as well as an understanding of application and design. His experience includes five years of mechanical installation, eight years as a Foreman, and twelve years in Project Management. Jeff is an integral part of a professional and effective team that strives to make every project a successful one for our customers.

Abdul Mateen Mohammed

Director of Electrical Controls

Abdul joined CHC in 2019 with five years of experience as an electrical control engineer and robotics programmer. As an experienced Electrical Controls Engineer, he focuses on Manufacturing and Industrial Automation. He is skilled in AutoCAD, Management, Leadership, Engineering, Design, Robotics, Programming, and Troubleshooting and holds a Bachelor's Degree in Computer Engineering (VLSI) from University of Maryland, Baltimore County. He is currently pursuing higher learning in Engineering Management.

George Foy

Director of Service Operations

With over 35 years of experience in the service arena, George prides himself in his communication with the customer from start to finish, providing real time solutions and same day service with cost effective pricing. He manages a staff of over 15 mechanics, dedicated to providing emergency service and preventative maintenance to customers. George was very instrumental in the expansion of the service department in Souderton, Pennsylvania in 2010.

Jim Nearhoof

Service Manager

With over 25 years of manufacturing industry experience, Jim joined CHC in 2015 as a Service Manager overseeing the daily operations with the Service Department. He prides himself in building new customer relations throughout the Mid-Atlantic region and beyond. As a leader in a people-oriented organization, he strives to achieve company goals in a continuously challenging and changing environment.

Erich Gebhardt

Project Installation Manager

Erich began his employment with CHC in March of 1987 as an apprentice in the installation department. Throughout his tenure with the company, he has continued to receive promotions and rose from the on-site supervisor overseeing 15 to 20 conveyor mechanics to project manager where his responsibilities include scheduling crews, coordinating material, and monitoring the progress of the daily installations, as well as, estimating labor necessary for future projects. He has successfully completed college courses in welding and industrial electric. Erich currently focuses on using his many years of experience to provide accurate labor estimates to meet our customers budget requirements.

Gus Schiefelbein

Installation Manager

Before joining CHC, Gus worked four years for a conveyor company as a machinist and fabricator. In 2001, he joined CHC as an installer. Throughout his tenure with the company, he has risen from on-site Forman to Installation Manager, overseeing 10+ conveyor mechanics, where his responsibilities include scheduling crews, training technicians, coordinating material, and monitoring the progress of the daily installations, as well as, estimating labor necessary for future projects.

Walter Carter

Installation Coordinator

Walter started with CHC in 2008 as a Mechanic and promoted to Foreman in 2009. He understands best practices, troubleshooting and the intricacies and complexities involved in the installation of a conveyor project. In 2017, he was again promoted to Installation Coordinator. Walter insures that conveyor projects remain on schedule, on budget, and installed as efficiently and safely as possible. With the diverse practical knowledge developed throughout his career, he serves as a liaison to all parties from the conception of a project through to its completion.