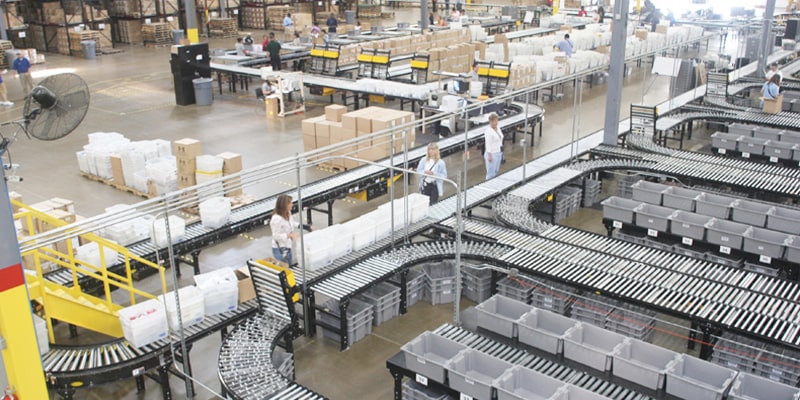 CHC offers a wide variety of warehouse equipment including scales, check-weighing systems for both distribution and manufacturing, storage bins, totes and containers, and safety equipment to insure that both your employees and equipment are protected. We offer a variety of material handling solutions to all of your warehouse equipment needs.
Wherever small-to-medium sized items are moved, stored, sorted or handled, we provide over 200 products for industrial assembly and storage retrieval applications, including plastic tote boxes and bins, tool boxes, attached lid containers, heavy-duty cabinets, and utility carts. These reusable containers are used to optimize space on pallets and in trucks, trailers, and warehouses for shipping, distribution, order picking and storage of materials. Containers are offered with attached lids, and can be nested. Nest & stack totes, attached lid containers, straight wall containers, and dividable containers are perfect for closed-loop distribution, medical applications, food, manufacturing and other industries.
---
WAREHOUSE EQUIPMENT
Dock equipment and accessories for your warehouse include pallet jacks, levelers, seals, shelters, doors, lights, yard ramps, bumpers, and truck restraints. Additionally, CHC provides installation services for any equipment attached to your building. Some additional warehouse equipment options include:
Integrated and Edge of Dock Levelers

Dock Seals & Shelters, Boards & Plates

Wheel Chocks

Strip Doors & Air Curtains

Large Ceiling Fans

Cranes & Hoists

Work Benches

Utility Carts, Dollies, & Trucks

Casters

Totes & Bins
SCALES & CHECK WEIGHING
Our scales range from small parts scales, pallet jack scales and standalone floor scales to fully automated high speed in-motion check-weighers. Scales and check-weighers can be fully integrated with conveyor controls, barcode scanners, and almost any other type of equipment or software systems.
SAFETY EQUIPMENT
Safety products protect employees against health and safety risks while at work. CHC offers a wide range of products for your warehouse, distribution center or manufacturing plant. Items include emergency wash stations, antifatigue mats, barrier rails, bollards, column protectors, wire partitions, traffic visibility mirrors, and handrails.