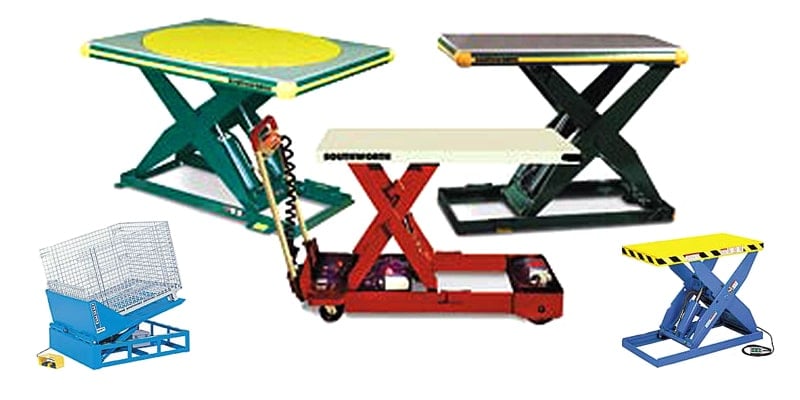 Ergonomics are extremely important in the work place. Lift tables improve ergonomics by relieving physical strain and possible injury to employees. They utilize various mechanisms to raise, lower or tilt workloads to make the needed height adjustment for ease in movement of product. Lifting your material to the right height can be performed with any of the following lift tables.
Mobile Scissor Lift Tables
Designed to easily lift, position, and transport heavy loads in the office, factory, or warehouse. Manually operated foot pedal and hydraulic cylinder raises truck bed to desired height.
Stationary Scissors Lift Tables
Economically priced unit lifts your heaviest loads up to 2,000 lbs. Increases productivity and employee safety by placing load at a comfortable working height.
Heavy Duty Scissor Lifts
Premium quality lift tables offers excellent stability and safety while lifting loads as high as 6,000 pounds.
Tilt Tables
Prevent back strain and fatigue from bending, lifting and reaching with these hydraulic tilt tables. One person can tilt pallets, crates, boxes and other large containers to an ideal working position.
Pallet Stands & Pallet Carousel Stands
Reduces back strain by raising load to a comfortable working height. Heavy-duty springs allow one person to operate. Locking mechanism keeps stand in raised position during stationary use—will not collapse during raising and lowering operations.