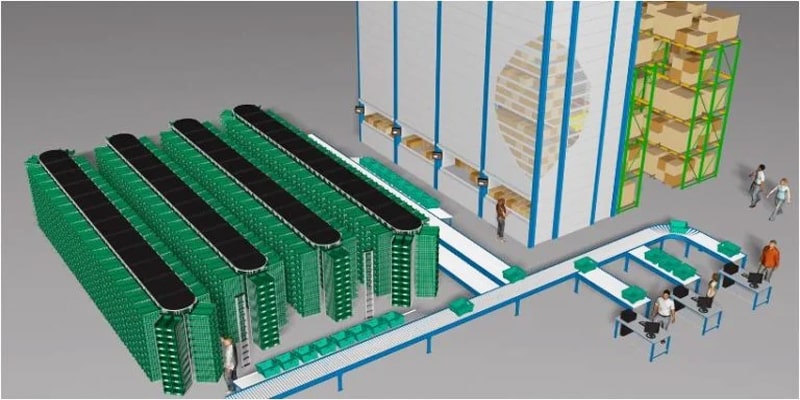 CHC offers the highest quality vertical and carousel storage systems on the market. These systems are a space saving, secure and efficient way to pick and store your product.
For companies interested in improving storage capacity and productivity, and greater accuracy in both picking and storage, vertical lift modules, and vertical and horizontal carousels offer an affordable goods to person ergonomic solution that saves space and increases picking accuracy and productivity.
---
Vertical Carousels
Increase security and optimize procedures and storage capacity with vertical carousels—providing up to 75% more storage capacity at a lower cost per cubic foot over standard shelving. Vertical carousels, ideal for small, like-sized inventory, bring the required parts to the retrieval area in just a few seconds without bending, ladder-climbing or walking long distances to search for parts.
Horizontal Carousels
Maximize operator productivity and increase pick rates with horizontal carousels. Combined with inventory management software and pick to light technology you can reduce labor by 2/3 while increasing picking productivity. Horizontal carousels are ideal for high throughput applications with small parts.
Vertical Lift Modules (VLM)
Save time, storage space and costs, and enable a much more efficient workflow with this first-class, high-tech system for storage organization and material handling. Vertical lift modules use the available room height, storing parts in height-optimized positions so that no space is lost. This produces maximum storage capacity on a minimal footprint, ultimately saving costs and utilizing the area dedicated to storage more economically.
Vertical Buffer Modules
Integrate your material handling processes with the vertical buffer module. Delivering items to an operator via a turntable, this automatic bin handling system boasts quick delivery times and high efficiencies in order picking, buffering and kitting applications. Its energy efficiency and easy integration in existing systems make it a highly economical storage solution. The vertical buffer module is ideal for managing a high number of SKUs.
Learn more about your vertical storage system options