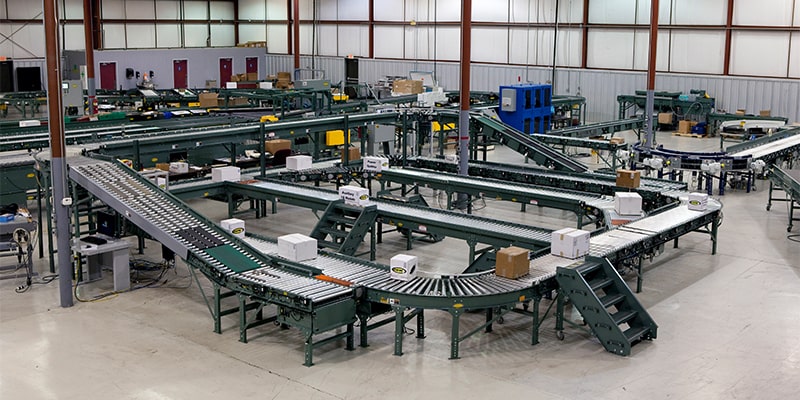 CHC's primary strength is in the design and implementation of turnkey integrated conveyor systems. These systems range from a simple straight line conveyor to a fully automated sortation system. Our ability to store, move, sort, and distribute materials efficiently has enabled our customers to maintain warehouse efficiency while increasing productivity.
As a systems integrator, we partner with customers, large and small, and from every facet of industry and government operation. Our team of engineers work with your company to analyze your current operation, layout constraints, and future growth plans to insure the best possible solution for your material handling.
---
Gravity Conveyors
Gravity conveyors move objects without power. Use gravity to your advantage. Many styles and options provide efficient and low cost material handling solutions. Gravity conveyors can be either skatewheel or roller and can be applied to receiving, shipping and assembly lines. The units are available in many widths and lengths.
Incline/Decline Belts
"Floor to Floor" Incline/Decline Belt conveyors are designed to move product between two different elevations. From a small retail store to an integrated system, they are excellent to convey products between floor levels and can be used as incline or decline units. The units are available in many widths and lengths.
Horizontal Belts
Belt conveyors are one of the most widely used package handling power conveyors. Their construction is inexpensive, simple, quiet, and easy to install. They are frequently needed for assembly operations and general transportation. Belt conveyors are also used where smooth or high coefficient of friction is needed on the conveying surface. They offer smooth product handling and a solid base to transport.
Zero Pressure Accumulation
Photo eye controlled horizontal live roller conveyor is designed for applications that require accumulation of products without a build-up of line pressure. A singulation feature allows products to be easily removed from any location on the conveyor.
Lineshaft Live Roller
Lineshaft driven live roller conveyor is a general transport conveyor with the capabilities of accumulating products with back-pressure while driving through curves with the same motor. Quiet operation, versatile design, easy installation and maintenance make this conveyor a valuable component in operations requiring high performance with minimal downtime.
Minimum Pressure Live Roller
Pressure adjustable V belt driven live roller accumulates cartons, boxes, etc. Basic design eliminates complicated adjustments and allows a minimum of 2% back pressure. V Belt driven pressure adjustable live roller is the simplest method ever devised for accumulating cartons, boxes, etc. Basic design eliminates complicated adjustments.
DC Motor Driven Live Roller
In the world of 24-volt material handling equipment there is a need for higher reliability and flexibility. DC Motor driven or motorized roller offer safe, energy efficient, quiet solutions to transport and accumulate a wide range of products.
Chain Driven Live Roller
To be used for conveying higher load capabilities such as loaded pallets and drums. Chain driven rollers make it ideal for conveying oily parts in bottling and steel industries. Extra heavy duty units available.
Heavy Duty Chain Driven Accumulation
Available is a chain driven live roller conveyor designed to handle loads such as pallets, drums, etc. Items are accumulated with zero back pressure, reducing the possibility of collisions that may result in product damage.
Drag Chain
Drag chain conveyor is designed to handle pallets and a wide range of heavier products. Combined with photo eye accumulation, pallets are accumulated with zero back pressure reducing the possibility of collision that may result in product damage.
Heavy Duty Horizontal Slat
Steel belt slat conveyor is rugged in design providing lasting, dependable performance. It can be used to convey hot, oily parts or to move items through heat drying processes. It can also be used for assembly line and production operations.
Wire Mesh Belts
The Model TW with wire belt can carry hot or cold parts from ovens or freezers. It can also be used in drying operations. Units are available in straight and curves sections.
Portable Conveyors
The Model B is ideal for stacking, loading, and unloading at lengths of 10', 12', 14' & 16'. Hardwood cleats permit use at steeper inclines up to 45 degree. The conveyor folds onto its own portable base for storage. There are many other models available.
Parts Conveyors
The portable Model PCX parts conveyor can be easily positioned under punch presses and extruding machines to catch small steel, plastic, or aluminum stampings, etc. The PCX conveys them quickly up to hopper or drum. Other models are available.
Overhead Monorails
Light and medium duty enclosed track ,as well as, heavy duty 3" and 4" I beam are available for a wide range of overhead conveying applications.