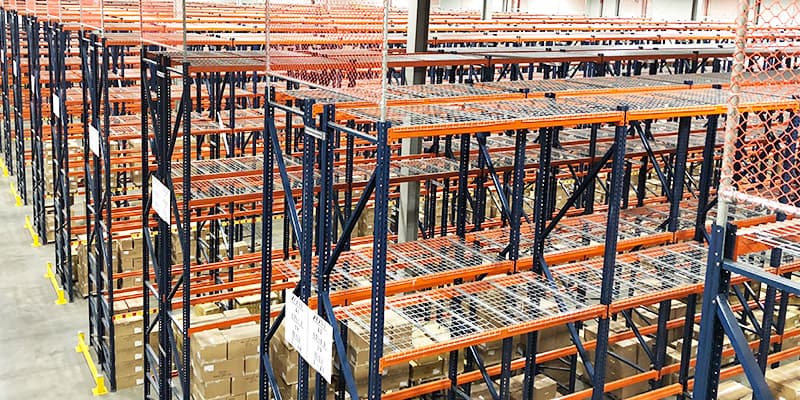 Conveyor Handling Company offers a wide variety of shelving and storage products. Our engineering staff will analyze your warehouse distribution needs to help you select the right type of shelving, and design the best possible storage solution to meet your material handling challenges.
---
Conventional Selective Pallet Rack
Selective pallet rack provides direct access to every load. Its modular design, flexibility, and efficient use of space, makes it the most common type of pallet rack. We offer both roll formed and structural steel channel construction.
Drive-In/Drive-Thru
Drive-In/Drive-Thru rack is one of the highest density storage solutions available. This is accomplished by staging multiple pallets of the same item along a series of rails within a row. It can provide up to 75% more pallet storage than selective pallet rack. This system uses the last-in, first-out principle of flow.
Carton Flow Rack
Carton flow rack provides a high-density method of storage for both full case and each-pick order selection. Several cartons of the same SKU are placed into a single lane of either rollers or wheel tracks from the back of the rack. The cartons slide toward the picking face utilizing pitch gravity rollers/wheels.
Cantilever Rack
Cantilever rack is typically used to store bulky and longer items, such as pipe, steel, lumber, carpet, furniture, and appliances. The modular design allows for vertical adjustments of arms to maximize storage space. The systems can be designed with both single and dual-sided entry.
Push Back Rack
Push back rack provides a high-density method of storage for pallets. Each lane utilizes telescoping carriages to store pallets up to five deep. Pallets are loaded and removed from the same side of the rack requiring last-in, first-out flow.
Pallet Flow Rack
Pallet flow rack provides another method of high-density method pallet storage. The storage system is designed with individual lanes of gravity wheels for each SKU. Pallets are loaded into the back of each lane. The pallets flow forward toward the order selection aisle allowing for first-in, first out flow.
Wire Decking
Wire decking provides a wire-mesh shelf for pallet rack beams. This shelf can be used to store cartons and pallets. The decks are specifically designed to help carry the load of either the pallet or carton.
Mobile Storage Systems
Mobile storage systems allow you to utilize your existing racks into a mobile and moveable storage system. We offer systems that allow you to double the space of your current storage space, while saving you substantial time and money.
General Duty Steel Shelving
Steel shelving comes in clip type or nut and bolt design. The shelving is very versatile, adjusts easily, and can be made with high capacity shelves.
Rivet Shelving (Boltless)
Rivet Shelving uses a boltless, durable design that is easy to assemble.
Wide Span & Adjustable Shelving
Wide span is deeper, wider, and higher than standard shelving. Wire shelving is versatile, durable, and easily adjustable. It is offered in many finishes to include chrome plated, powder epoxy, and metallic epoxy.
Modular Drawer & Compact Storage (Mobile Shelving)
Modular drawer units use high capacity steel drawers that are offered in a wide range of configurations. Compact Storage Systems utilizes standard shelving and makes them mobile for the highest density storage possible. The entire row shelving moves to eliminate the need for multiple picking aisles. Many times we can increase your storage capacity by 30-60%.